As part of their commitments to The Ellen MacArthur Foundation's New Plastic Economy, signatories agreed to transparency on progress. In late October 2019, EMF released the first of its progress reports, which can be accessed
here
.
We conducted some summary analysis on a subset of the 30 large packaged goods companies (over US$1 billion in annual revenues), looking at personal care, beauty, food and beverage (including alcoholic beverages) companies, most of which are Business360 clients.
Access our summary pdf
here
and
contact us
for further details.
Some highlights:
62% of their plastic packaging is already reusable, recyclable or compostable, against a 2025 target of 100%
Almost all plastic that qualifies under this goal is recyclable, rather than reusable or compostable. Across the signatories, on average by weight, about 60% of plastic is recyclable, less than 3% reusable, and less than 1% compostable.

Coca-Cola is the best performer with 99% of its primary plastic packaging determined to be reusable, recyclable or compostable, but it has a relatively easier task: it uses PET predominantly; others work with a much wider range of plastics.
Companies are struggling to boost post-consumer recycled (PCR) content
Currently just 3.5% of packaging on average is PCR against a 2025 target of 24% (this is an average, some companies have less onerous goals).

A key factor is limited availability of high-quality recycled waste materials, driven by:

High demand means CPGs compete for available volumes of PCR

Forward thinking companies are looking at alternative ways to secure supply, including investing in and closer partnerships with recycling companies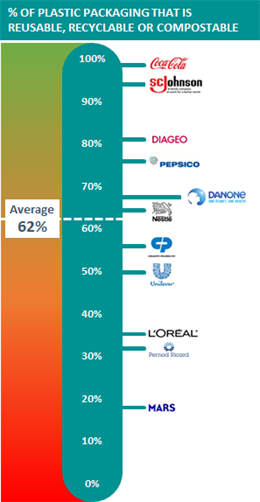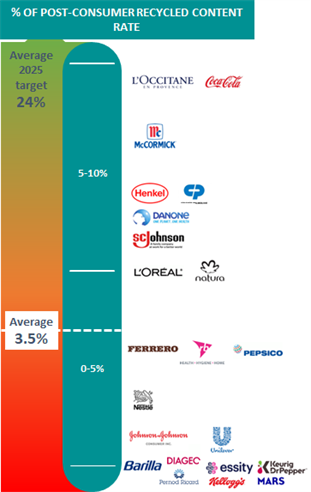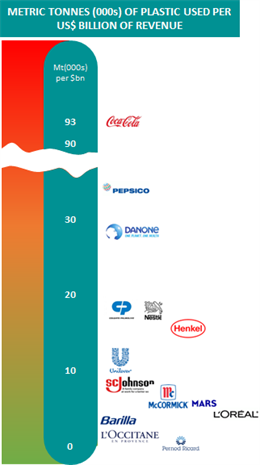 'Plastic intensity' set to decline
Where possible, we calculated the 'plastic intensity' of each company, being the total metric tonnes of plastic per unit of revenue.
We expect this measure will be a closely-watched metric as CPGs 'deplastize'.
Soft drink and water companies (Coca-Cola, PepsiCo, and Danone) use by far the most plastic per unit of revenue.
Coca-Cola standards apart, using way more than any other, nearly 3X the amount per unit of revenue than PepsiCo and about 10X the amount of some CPGs.
There are several non-beverage companies (e.g. Colgate, Henkel and Unilever) that use significantly more plastic per unit of revenue than others.
The performance of Pernod Ricard and L'Occitane show what's possible through using non-plastic solutions (glass, metal and paper/cardboard).
CPG companies face a substantial challenge in lowering plastics use. An outpouring of consumer anger about plastic is forcing them to rethink many business practices. Change is required on numerous fronts and requires considerable investment. Some companies are advancing well but others look to be struggling with the scope of the challenge, yet these challenges are set to rise as looming regulations in numerous jurisdictions is requiring them to quickly adapt.
For more details or assistance in keeping up with all these change,
contact us.
[Image Credit: © Business360]